What do we mean when talk about "art" and what role does artmaking play in the process of returning to a more natural or wild state?
As a gigantic flow system of creative energy, Earth herself (I would argue) embodies "artmaking" and therefore so do we. We live inside a continual outpouring of pattern and beauty. When we make "art" (poem, illustration, song…) we are just straight-up participating. To me artmaking is connection—basic relationship maintenance. A way of communicating with the earth.
My favorite artists are usually children. This might sound trite, but it's not. Unless they've had the nature wrung out of them, children make amazing art (and messes) pretty much all day long, as surely and effortlessly as a slug makes a beautiful sparkling slime trail.
I'm lucky enough to live alongside two children (my daughters) who are constantly engaged in artmaking and help remind me what that means.
One of our favorite places is a spot at Kelley Point Park here in Portland, OR, where the Columbia and Willamette rivers come together. We have been coming to this spot for several years and it's special to us. We play there. Here's something I made there this winter messing around with clay and sand: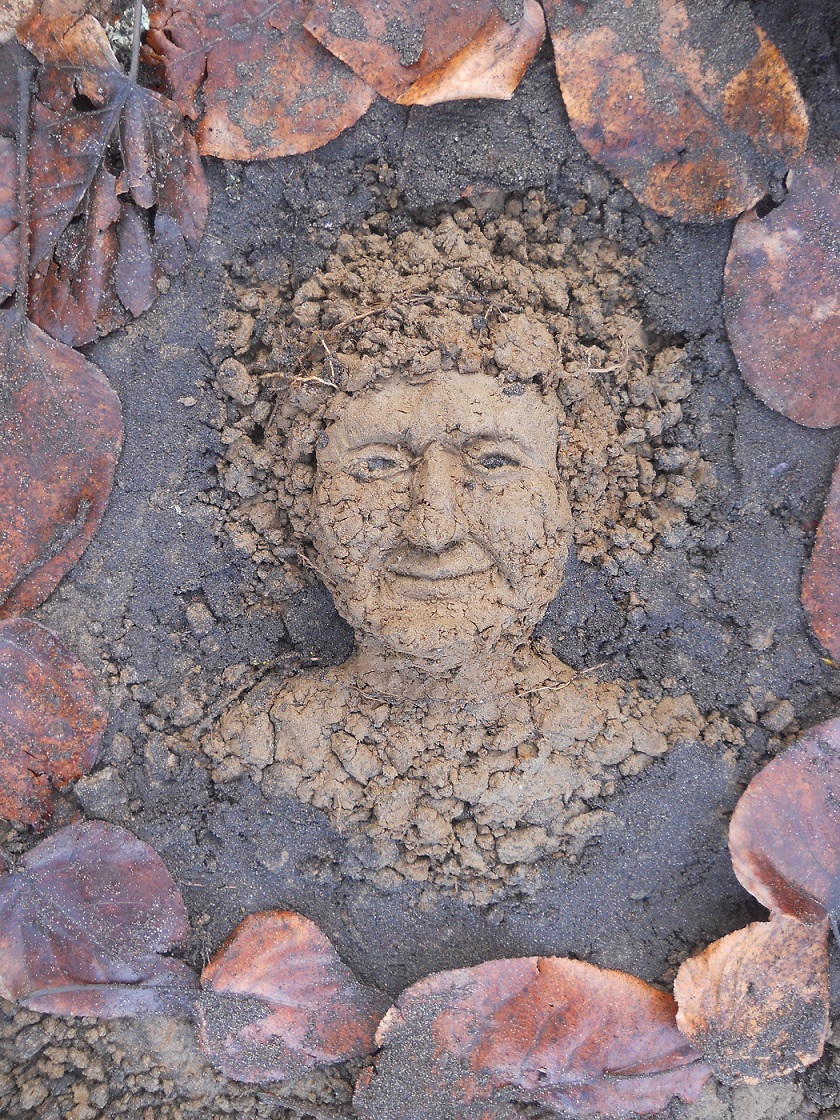 I can't tell you how happy I felt to see this crumbly face looking up at me. I love her! My kids made mud "paint" nearby while I made this, and painted designs all over a big log, and themselves, and then dunked themselves in the river and started over again.
We play there, "make art" there, and it washes away. Other people, dogs, deer, rain, wind, all come when we're gone and add their own stuff. We come back and do it again. This is my favorite kind of artmaking.
What role does artmaking play for you? How does it connect to rewilding?